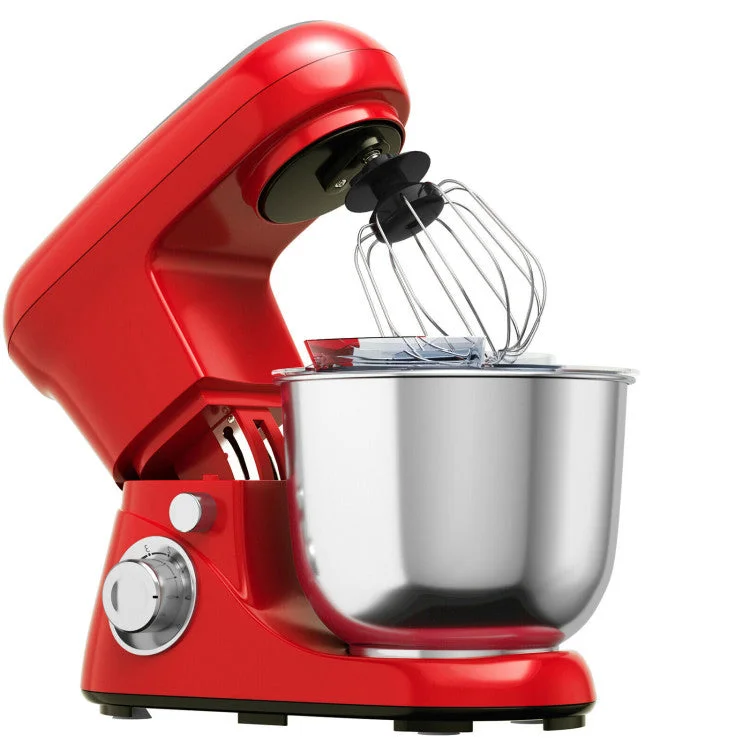 ${data.index + 1}/12
Specifications
Color: Black/Red
Material: ABS + stainless steel + rubber
Product dimensions: 9.5" x 15.5" x 12.5" (L x W x H)
Mixing bowl size: 9" x 7.5" (φx H)
Mixing bowl capacity: 5.3 Quart
Net weight: 9 lbs
Voltage: 240 V/60 Hz
Power: 500 W
Package includes:
1 x Stand mixer
1 x User guide
1 x Dough hook
1 x Beater
1 x Whisk
1 x Mixing bowl
Overview
The stand mixer is certain to leave an impressive performance. Strong motor makes it a more efficient and faster way to mix food with less noise; which keeps the original taste and smoothness of food.
The large capacity allows you to conveniently mix food with adding ingredients; which perfectly meets your kitchen needs. Considering that food may be ejected; the bowl is built with a splash guard to avoid making a mess.
3 different attachments allow you to do all types of food mixing and perfectly deal with a variety of ingredients. Dough hook is designed for heavy dough; bread dough; etc. Beater is perfect for medium to light dough and batter for cakes. The whisk is capable of whipping cream; beating egg whites; etc.
Featuring tit-head design; the stand mixer makes it easy to install mixing bowl and attachments by pressing the unlock lever. Thanks to that; it's also of great convenience to add ingredients. Four non-slipping pads on the bottom add extra stability and safety; which serves to keep the mixer steady while mixing food.
The stand mixer comes with easy operation. Adjusting the button; you can freely choose the ideal speed. After pressing the lock lever; the drive can be easily swung up and lowered down. Besides; the bowl made of stainless steel is easy to clean and maintain.