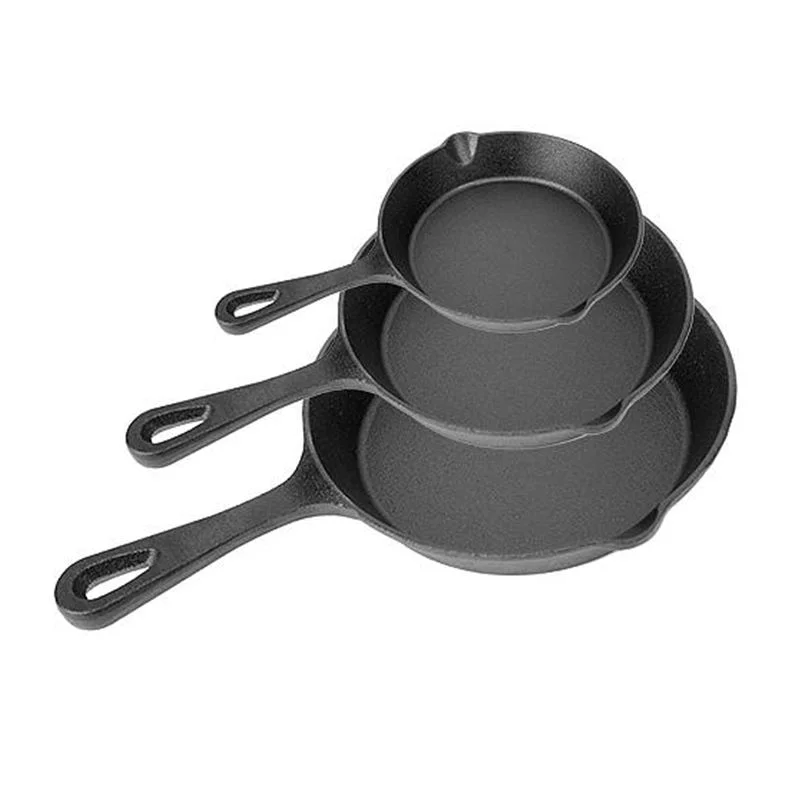 ${data.index + 1}/12
Specifications - 3 Piece Black
Product Type: Cast Iron Skillets
Color: Black
Material: Cast Iron
S Product Diameter: 15.5cm/6.11inch
M Product Diameter: 20.5cm/8.07inch
L Product Diameter: 26.5cm/10.44inch
S Product Size: 24.5x15.5x3cm/9.65x6.11x1.19inch
M Product Size: 31.5x20.5x3.5cm/12.4x8.07x1.38inch
L Product Size: 37x26.5x4.5cm/14.57x10.44x1.78inch
S Product Weight: 671g/1.48lbs
M Product Weight: 1095g/2.42lbs
L Product Weight: 1879.5g/4.15lbs
Package Size: 40x39x8.5cm/15.75x15.35x3.35in
Package Weight: 4.2kg/9.26lbs
NOTE:
pay attention while using them on a glass stove-top as slight sliding might cause a scratch to the surfaces.
Hand washing this pan with warm soapy water is recommended to preserve the cookware's seasoned finish.
Specifications - 1 Piece Black
Product Type: Cast Iron Skillet
Color: Black
Material: Cast Iron
Product Diameter: 30cm/12inch
Product Size: 49*32.5*6.0cm/19.3*12.8*2.4inch
Product Weight: 3.32kg/7.32lbs
Package Size: 50*33*6.5cm/19.7*13*2.6inch
Package Weight: 3.33kg/7.32lbs
Note:
How to boil a new cast iron pot?
1. Clean the new pot thoroughly, and then bake it over medium heat. Turn to low heat after ensuring that there is no water in the pot;
2. Pour an appropriate amount of cooking oil, pick up a piece of paper towel with chopsticks or clamps, and dip the paper towel into some cooking oil;
3. Spread the cooking oil evenly on each corner of the pot, repeat several times (be careful to burn your hands), for 3-5 minutes; (if possible, it is recommended to use pig skin to complete the above steps)
4. Wait for the pot to cool naturally, and it can be used normally after boiling. (The boiling process can be repeated, generally 2-3 times, the effect is good, about 3-5 minutes each time)

How to avoid the rust of the pot?
1. After using the pot, wash it with warm water and dry the water in the pot. You can apply a layer of vegetable oil for better effect.
2. When not in use for a long time, wipe a thin layer of cooking oil in the pot according to the boiling method.
3. If the pot is rusty, use a scouring pad and salt to remove the rust and rust smell.
Illustrate:
Light shooting and different displays may cause the color of the item in the picture a little different from the real thing. Please refer to the actual product. The measurement allowed error is +/- 1-3cm.
*Product Notes:
1. For any product problems, you must provide communication vouchers, pictures, videos, etc. with the buyer.
2. The orders must meet the following requirements in order to accept returns and refunds, otherwise they will not be accepted.
a. Product photos or dynamic videos showing the product in question
b. Screenshots of communication records with end consumers
c. Outer packaging and label pictures (clear and complete label pictures on outer packaging)
d. Screenshot of the distributor's order refund on the e-commerce platform/independent station.
3. If the product is returned to the overseas warehouse due to the wrong address, no refund will be given.
4. No reason to return any non-product problems, such as the following wrong order, wrong purchase by customer, customer dislike, etc.
5. Please contact the online customer service before returning the product for a refund, otherwise the return will not be refunded.
6. Items must be unworn, undamaged and in original packaging.
Note:
Drop shipping to 48 states in the United States. Some remote states in the United States (short code: PR, HI, VI, AE, AP, AK, GU, AS, MP) do not provide a drop shipping service for the time being.
Warm Tip:
• Free Standard Shipping on all items.
• All orders are shipped out via UPS, USPS or LTL. etc.
• Transit time is 3-15 business days varying on customer's location to fulfillment center.