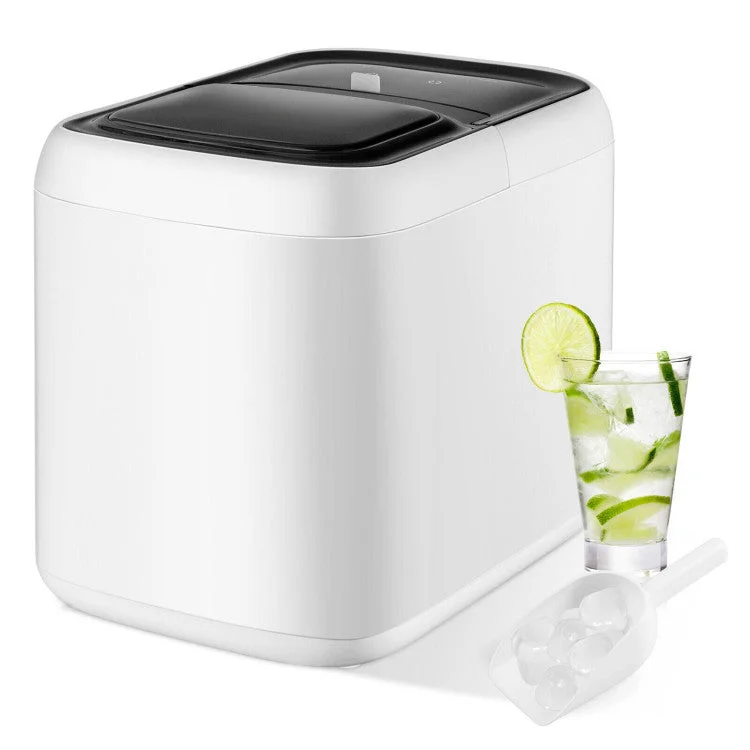 ${data.index + 1}/10
Specifications - White
Color: White
Material: PP
Product dimension: 11" x 16" x 13.5" (L x W x H)
Ice basket dimension: 8.5" x 5.5" x 2"(L x W x H)
Power cord length: 70"
Net weight: 24.5 lbs
Related voltage: 120V 60HZ
Power: 115W
Noise: 45 dB
Package includes:
1 x Ice maker
1 x Ice basket
1 x Ice shovel
1 x Instruction
Feature
With a high-quality compressor; this electric ice maker takes only 6-8 minutes to make 9 ice cubes and is able to produce 35 lbs ice per day. Meanwhile; it dissipates heat efficiently and runs at a low noise level of less than 45 dB; which will not disturb you at all.
The countertop ice making machine can make bullet-shaped ice cubes that is not easier to melt or stick than ordinary ice cubes. According to your preference; you can choose small or large ice cube size to make smoothies; chill drinks; cold seafood and more.
It can clean all corners of the ice machine through water circulation; which offer you and your family fresh ice cubes and saves you a lot of time.
This compact ice maker weighs only 24.5 lbs and measure 11" x 16" x 13.5"(L x W x H) in size; allowing you to carry it to any place with ease. Apart from using it at home; it's also very suitable for office; dormitory; RV; party; etc.
When the water tank is empty or ice basket is full; the water shortage indicator and ice full indicator on the panel will remind you.