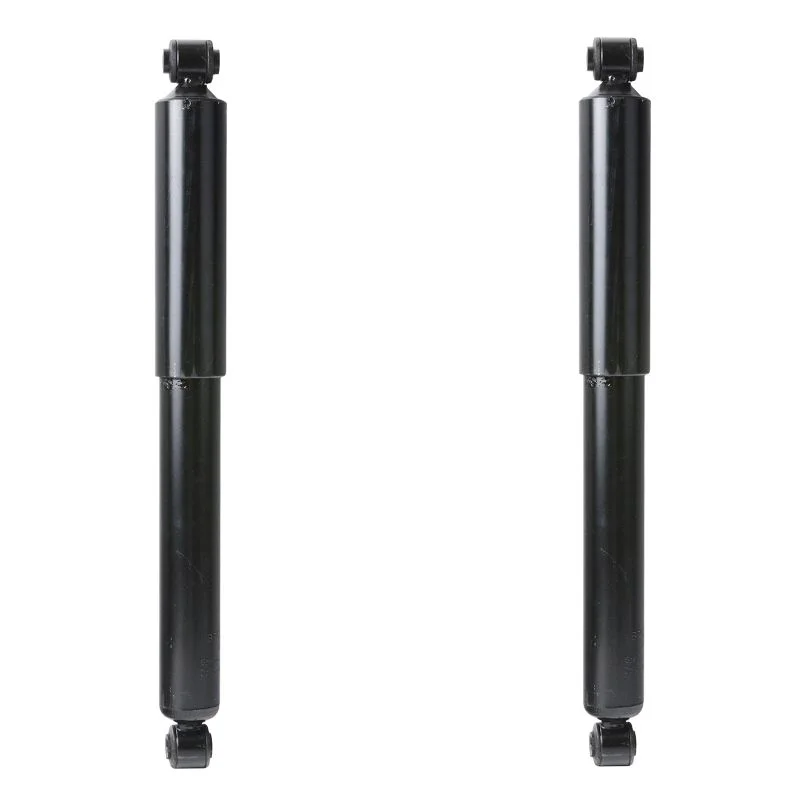 ${data.index + 1}/4
Specification
Color: Black
Material: Steel
Condition: New
Package Weight(kg): 5.36
Package Dimensions (L x W x H): 62*13*6.5 cm
Item Weight(kg): 4.16
Item Size (L x W x H): 42*6.5*6.5 cm
Placement on Vehicle: Rear
Quantity: 1 Pair
Fitment
1999-2004 Jeep Grand Cherokee
Suitable for Vehicle Model
| | | | | | |
| --- | --- | --- | --- | --- | --- |
| Year | Trim | Engine | Make | Model | Notes |
| 2004 | Laredo Sport Utility 4-Door | 4.7L 287Cu. In. V8 GAS SOHC Naturally Aspirated | Jeep | Grand Cherokee | Except Up Country Suspension |
| 1999 | Laredo Sport Utility 4-Door | 4.0L 242Cu. In. l6 GAS OHV Naturally Aspirated | Jeep | Grand Cherokee | Except Up Country Suspension |
| 1999 | Laredo Sport Utility 4-Door | 4.7L 287Cu. In. V8 GAS SOHC Naturally Aspirated | Jeep | Grand Cherokee | Except Up Country Suspension |
| 2000 | Limited Sport Utility 4-Door | 4.0L 242Cu. In. l6 GAS OHV Naturally Aspirated | Jeep | Grand Cherokee | Except Up Country Suspension |
| 2000 | Limited Sport Utility 4-Door | 4.7L 287Cu. In. V8 GAS SOHC Naturally Aspirated | Jeep | Grand Cherokee | Except Up Country Suspension |
| 2000 | Laredo Sport Utility 4-Door | 4.0L 242Cu. In. l6 GAS OHV Naturally Aspirated | Jeep | Grand Cherokee | Except Up Country Suspension |
| 2000 | Laredo Sport Utility 4-Door | 4.7L 287Cu. In. V8 GAS SOHC Naturally Aspirated | Jeep | Grand Cherokee | Except Up Country Suspension |
| 2001 | Limited Sport Utility 4-Door | 4.0L 242Cu. In. l6 GAS OHV Naturally Aspirated | Jeep | Grand Cherokee | Except Up Country Suspension |
| 2001 | Limited Sport Utility 4-Door | 4.7L 287Cu. In. V8 GAS SOHC Naturally Aspirated | Jeep | Grand Cherokee | Except Up Country Suspension |
| 2001 | Laredo Sport Utility 4-Door | 4.0L 242Cu. In. l6 GAS OHV Naturally Aspirated | Jeep | Grand Cherokee | Except Up Country Suspension |
| 2001 | Laredo Sport Utility 4-Door | 4.7L 287Cu. In. V8 GAS SOHC Naturally Aspirated | Jeep | Grand Cherokee | Except Up Country Suspension |
| 2002 | Sport Sport Utility 4-Door | 4.0L 242Cu. In. l6 GAS OHV Naturally Aspirated | Jeep | Grand Cherokee | Except Up Country Suspension |
| 2002 | Sport Sport Utility 4-Door | 4.7L 287Cu. In. V8 GAS SOHC Naturally Aspirated | Jeep | Grand Cherokee | Except Up Country Suspension |
| 2002 | Overland Sport Utility 4-Door | 4.7L 287Cu. In. V8 GAS SOHC Naturally Aspirated | Jeep | Grand Cherokee | Except Up Country Suspension |
| 1999 | Limited Sport Utility 4-Door | 4.7L 287Cu. In. V8 GAS SOHC Naturally Aspirated | Jeep | Grand Cherokee | Except Up Country Suspension |
| 2002 | Limited Sport Utility 4-Door | 4.0L 242Cu. In. l6 GAS OHV Naturally Aspirated | Jeep | Grand Cherokee | Except Up Country Suspension |
| 2002 | Laredo Sport Utility 4-Door | 4.0L 242Cu. In. l6 GAS OHV Naturally Aspirated | Jeep | Grand Cherokee | Except Up Country Suspension |
| 2002 | Laredo Sport Utility 4-Door | 4.7L 287Cu. In. V8 GAS SOHC Naturally Aspirated | Jeep | Grand Cherokee | Except Up Country Suspension |
| 2003 | Overland Sport Utility 4-Door | 4.7L 287Cu. In. V8 GAS SOHC Naturally Aspirated | Jeep | Grand Cherokee | Except Up Country Suspension |
| 2003 | Limited Sport Utility 4-Door | 4.0L 242Cu. In. l6 GAS OHV Naturally Aspirated | Jeep | Grand Cherokee | Except Up Country Suspension |
| 2003 | Limited Sport Utility 4-Door | 4.7L 287Cu. In. V8 GAS SOHC Naturally Aspirated | Jeep | Grand Cherokee | Except Up Country Suspension |
| 2003 | Laredo Sport Utility 4-Door | 4.0L 242Cu. In. l6 GAS OHV Naturally Aspirated | Jeep | Grand Cherokee | Except Up Country Suspension |
| 2003 | Laredo Sport Utility 4-Door | 4.7L 287Cu. In. V8 GAS SOHC Naturally Aspirated | Jeep | Grand Cherokee | Except Up Country Suspension |
| 2004 | Special Edition Sport Utility 4-Door | 4.0L 242Cu. In. l6 GAS OHV Naturally Aspirated | Jeep | Grand Cherokee | Except Up Country Suspension |
| 2004 | Special Edition Sport Utility 4-Door | 4.7L 287Cu. In. V8 GAS SOHC Naturally Aspirated | Jeep | Grand Cherokee | Except Up Country Suspension |
| 2004 | Overland Sport Utility 4-Door | 4.7L 287Cu. In. V8 GAS SOHC Naturally Aspirated | Jeep | Grand Cherokee | Except Up Country Suspension |
| 2004 | Limited Sport Utility 4-Door | 4.0L 242Cu. In. l6 GAS OHV Naturally Aspirated | Jeep | Grand Cherokee | Except Up Country Suspension |
| 2004 | Limited Sport Utility 4-Door | 4.7L 287Cu. In. V8 GAS SOHC Naturally Aspirated | Jeep | Grand Cherokee | Except Up Country Suspension |
| 2004 | Laredo Sport Utility 4-Door | 4.0L 242Cu. In. l6 GAS OHV Naturally Aspirated | Jeep | Grand Cherokee | Except Up Country Suspension |
| 2002 | Limited Sport Utility 4-Door | 4.7L 287Cu. In. V8 GAS SOHC Naturally Aspirated | Jeep | Grand Cherokee | Except Up Country Suspension |
| 1999 | Limited Sport Utility 4-Door | 4.0L 242Cu. In. l6 GAS OHV Naturally Aspirated | Jeep | Grand Cherokee | Except Up Country Suspension |
Some tips before installation:
>In order to ensure the consistency of the shock absorber, it is best to choose the shock absorber to be replaced in pairs.
>The bearing on the top of the shock absorber should be lubricated (grease), and the waterproof dust cover must be put in place to ensure that it is not damaged.
>It is particularly difficult to remove the end nut of the telescopic tappet of the shock absorber (the spring must be fastened with an iron wire), and it is easier to install.
>When installing the ball head (suspender) of the balance bar, press down with an iron rod to install it smoothly.
>Highly recommended for professional installation. Highly recommended for professional installation.
Illustrate:
Light shooting and different displays may cause the color of the item in the picture a little different from the real thing. Please refer to the actual product. The measurement allowed error is +/- 1-3cm.
*Product Notes:
1. For any product problems, you must provide communication vouchers, pictures, videos, etc. with the buyer.
2. The orders must meet the following requirements in order to accept returns and refunds, otherwise they will not be accepted.
a. Product photos or dynamic videos showing the product in question
b. Screenshots of communication records with end consumers
c. Outer packaging and label pictures (clear and complete label pictures on outer packaging)
d. Screenshot of the distributor's order refund on the e-commerce platform/independent station.
3. If the product is returned to the overseas warehouse due to the wrong address, no refund will be given.
4. No reason to return any non-product problems, such as the following wrong order, wrong purchase by customer, customer dislike, etc.
5. Please contact the online customer service before returning the product for a refund, otherwise the return will not be refunded.
6. Items must be unworn, undamaged and in original packaging.
Note:
Drop shipping to 48 states in the United States. Some remote states in the United States (short code: PR, HI, VI, AE, AP, AK, GU, AS, MP) do not provide a drop shipping service for the time being.
Warm Tip:
• Free Standard Shipping on all items.
• All orders are shipped out via UPS, USPS or LTL. etc.
• Transit time is 3-15 business days varying on customer's location to fulfillment center.