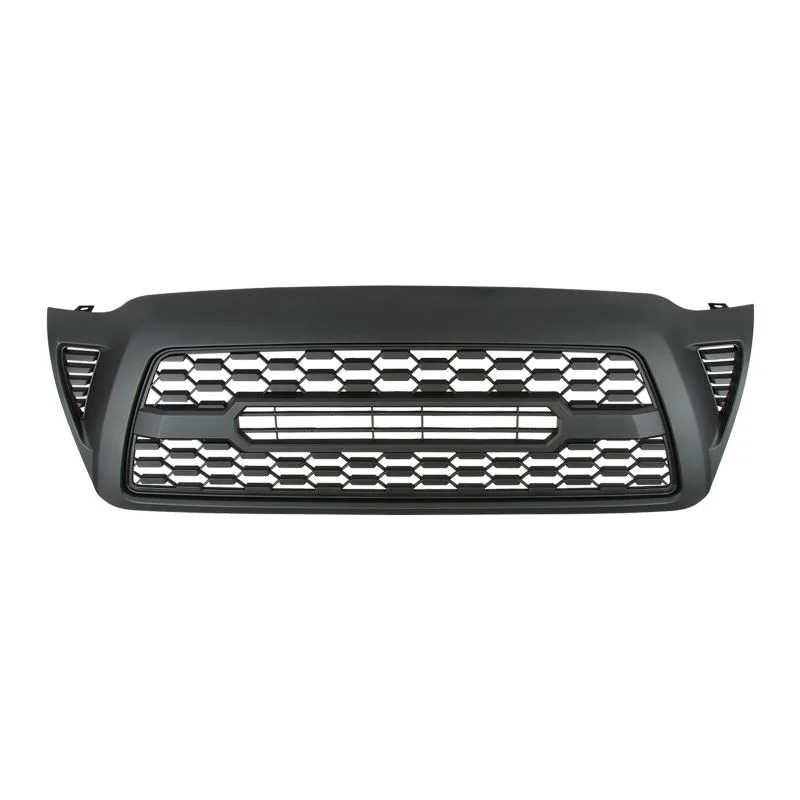 ${data.index + 1}/7
Specification
Color: Gloss Black
Material: ABS
Item Size (L x W x H): 41.34*13.78*6.69 inch
Item Weight(lbs): 4.41
Vehicle Service: Truck
Surface Finish: Paint
Condition: New
Manufacturer Part Number: QH-TO-010-1
Package Dimensions (L x W x H): 41.34*13.78*6.69 inch
Package Weight(lbs): 7.72
Package Include: 1*Grille
Fitment
2005-2011 Toyota Tacoma
Suitable for Vehicle Model
| | | | | | |
| --- | --- | --- | --- | --- | --- |
| Year | Trim | Engine | Make | Model | Notes |
| 2011 | Base Crew Cab Pickup 4-Door | 2.7L 2694CC l4 GAS DOHC Naturally Aspirated | Toyota | Tacoma | |
| 2006 | Base Crew Cab Pickup 4-Door | 4.0L 3956CC 241Cu. In. V6 GAS DOHC Naturally Aspirated | Toyota | Tacoma | |
| 2006 | Base Crew Cab Pickup 4-Door | 2.7L 2694CC l4 GAS DOHC Naturally Aspirated | Toyota | Tacoma | |
| 2007 | X-Runner Extended Cab Pickup 4-Door | 4.0L 3956CC 241Cu. In. V6 GAS DOHC Naturally Aspirated | Toyota | Tacoma | |
| 2007 | TRD Sport Prerunner Crew Cab Pickup 4-Door | 4.0L 3956CC 241Cu. In. V6 GAS DOHC Naturally Aspirated | Toyota | Tacoma | |
| 2007 | SR5 Prerunner Crew Cab Pickup 4-Door | 4.0L 3956CC 241Cu. In. V6 GAS DOHC Naturally Aspirated | Toyota | Tacoma | |
| 2007 | Pre Runner Standard Cab Pickup 2-Door | 4.0L 3956CC 241Cu. In. V6 GAS DOHC Naturally Aspirated | Toyota | Tacoma | |
| 2007 | Pre Runner Standard Cab Pickup 2-Door | 2.7L 2694CC l4 GAS DOHC Naturally Aspirated | Toyota | Tacoma | |
| 2007 | Pre Runner Extended Cab Pickup 4-Door | 4.0L 3956CC 241Cu. In. V6 GAS DOHC Naturally Aspirated | Toyota | Tacoma | |
| 2007 | Pre Runner Extended Cab Pickup 4-Door | 2.7L 2694CC l4 GAS DOHC Naturally Aspirated | Toyota | Tacoma | |
| 2007 | Pre Runner Crew Cab Pickup 4-Door | 4.0L 3956CC 241Cu. In. V6 GAS DOHC Naturally Aspirated | Toyota | Tacoma | |
| 2007 | Pre Runner Crew Cab Pickup 4-Door | 2.7L 2694CC l4 GAS DOHC Naturally Aspirated | Toyota | Tacoma | |
| 2007 | Base Standard Cab Pickup 2-Door | 4.0L 3956CC 241Cu. In. V6 GAS DOHC Naturally Aspirated | Toyota | Tacoma | |
| 2007 | Base Standard Cab Pickup 2-Door | 2.7L 2694CC l4 GAS DOHC Naturally Aspirated | Toyota | Tacoma | |
| 2007 | Base Extended Cab Pickup 4-Door | 4.0L 3956CC 241Cu. In. V6 GAS DOHC Naturally Aspirated | Toyota | Tacoma | |
| 2007 | Base Extended Cab Pickup 4-Door | 2.7L 2694CC l4 GAS DOHC Naturally Aspirated | Toyota | Tacoma | |
| 2007 | Base Crew Cab Pickup 4-Door | 4.0L 3956CC 241Cu. In. V6 GAS DOHC Naturally Aspirated | Toyota | Tacoma | |
| 2007 | Base Crew Cab Pickup 4-Door | 2.7L 2694CC l4 GAS DOHC Naturally Aspirated | Toyota | Tacoma | |
| 2008 | X-Runner Extended Cab Pickup 4-Door | 4.0L 3956CC 241Cu. In. V6 GAS DOHC Naturally Aspirated | Toyota | Tacoma | |
| 2008 | TRD Sport Prerunner Crew Cab Pickup 4-Door | 4.0L 3956CC 241Cu. In. V6 GAS DOHC Naturally Aspirated | Toyota | Tacoma | |
| 2008 | SR5 Prerunner Crew Cab Pickup 4-Door | 4.0L 3956CC 241Cu. In. V6 GAS DOHC Naturally Aspirated | Toyota | Tacoma | |
| 2008 | Pre Runner Standard Cab Pickup 2-Door | 4.0L 3956CC 241Cu. In. V6 GAS DOHC Naturally Aspirated | Toyota | Tacoma | |
| 2006 | Base Extended Cab Pickup 4-Door | 2.7L 2694CC l4 GAS DOHC Naturally Aspirated | Toyota | Tacoma | |
| 2008 | Pre Runner Standard Cab Pickup 2-Door | 2.7L 2694CC l4 GAS DOHC Naturally Aspirated | Toyota | Tacoma | |
| 2006 | Base Extended Cab Pickup 4-Door | 4.0L 3956CC 241Cu. In. V6 GAS DOHC Naturally Aspirated | Toyota | Tacoma | |
| 2006 | Base Standard Cab Pickup 2-Door | 2.7L 2694CC l4 GAS DOHC Naturally Aspirated | Toyota | Tacoma | |
| 2005 | Pre Runner Standard Cab Pickup 2-Door | 2.7L 2694CC l4 GAS DOHC Naturally Aspirated | Toyota | Tacoma | |
| 2005 | Pre Runner Extended Cab Pickup 3-Door | 4.0L 3956CC 241Cu. In. V6 GAS DOHC Naturally Aspirated | Toyota | Tacoma | |
| 2005 | Pre Runner Extended Cab Pickup 3-Door | 2.7L 2694CC l4 GAS DOHC Naturally Aspirated | Toyota | Tacoma | |
| 2005 | Pre Runner Crew Cab Pickup 4-Door | 4.0L 3956CC 241Cu. In. V6 GAS DOHC Naturally Aspirated | Toyota | Tacoma | |
| 2005 | Pre Runner Crew Cab Pickup 4-Door | 2.7L 2694CC l4 GAS DOHC Naturally Aspirated | Toyota | Tacoma | |
| 2005 | Base Standard Cab Pickup 2-Door | 4.0L 3956CC 241Cu. In. V6 GAS DOHC Naturally Aspirated | Toyota | Tacoma | |
| 2005 | Base Standard Cab Pickup 2-Door | 2.7L 2694CC l4 GAS DOHC Naturally Aspirated | Toyota | Tacoma | |
| 2005 | Base Extended Cab Pickup 3-Door | 4.0L 3956CC 241Cu. In. V6 GAS DOHC Naturally Aspirated | Toyota | Tacoma | |
| 2005 | Base Extended Cab Pickup 3-Door | 2.7L 2694CC l4 GAS DOHC Naturally Aspirated | Toyota | Tacoma | |
| 2005 | Base Crew Cab Pickup 4-Door | 4.0L 3956CC 241Cu. In. V6 GAS DOHC Naturally Aspirated | Toyota | Tacoma | |
| 2005 | Base Crew Cab Pickup 4-Door | 2.7L 2694CC l4 GAS DOHC Naturally Aspirated | Toyota | Tacoma | |
| 2006 | X-Runner Extended Cab Pickup 4-Door | 4.0L 3956CC 241Cu. In. V6 GAS DOHC Naturally Aspirated | Toyota | Tacoma | |
| 2006 | TRD Sport Prerunner Crew Cab Pickup 4-Door | 4.0L 3956CC 241Cu. In. V6 GAS DOHC Naturally Aspirated | Toyota | Tacoma | |
| 2006 | SR5 Prerunner Crew Cab Pickup 4-Door | 4.0L 3956CC 241Cu. In. V6 GAS DOHC Naturally Aspirated | Toyota | Tacoma | |
| 2006 | Pre Runner Standard Cab Pickup 2-Door | 4.0L 3956CC 241Cu. In. V6 GAS DOHC Naturally Aspirated | Toyota | Tacoma | |
| 2006 | Pre Runner Standard Cab Pickup 2-Door | 2.7L 2694CC l4 GAS DOHC Naturally Aspirated | Toyota | Tacoma | |
| 2006 | Pre Runner Extended Cab Pickup 4-Door | 4.0L 3956CC 241Cu. In. V6 GAS DOHC Naturally Aspirated | Toyota | Tacoma | |
| 2006 | Pre Runner Extended Cab Pickup 4-Door | 2.7L 2694CC l4 GAS DOHC Naturally Aspirated | Toyota | Tacoma | |
| 2006 | Pre Runner Crew Cab Pickup 4-Door | 4.0L 3956CC 241Cu. In. V6 GAS DOHC Naturally Aspirated | Toyota | Tacoma | |
| 2006 | Pre Runner Crew Cab Pickup 4-Door | 2.7L 2694CC l4 GAS DOHC Naturally Aspirated | Toyota | Tacoma | |
| 2006 | Base Standard Cab Pickup 2-Door | 4.0L 3956CC 241Cu. In. V6 GAS DOHC Naturally Aspirated | Toyota | Tacoma | |
| 2006 | Base Prerunner Crew Cab Pickup 4-Door | 4.0L 3956CC 241Cu. In. V6 GAS DOHC Naturally Aspirated | Toyota | Tacoma | |
| 2008 | Pre Runner Extended Cab Pickup 4-Door | 4.0L 3956CC 241Cu. In. V6 GAS DOHC Naturally Aspirated | Toyota | Tacoma | |
| 2008 | Pre Runner Extended Cab Pickup 4-Door | 2.7L 2694CC l4 GAS DOHC Naturally Aspirated | Toyota | Tacoma | |
| 2008 | Pre Runner Crew Cab Pickup 4-Door | 4.0L 3956CC 241Cu. In. V6 GAS DOHC Naturally Aspirated | Toyota | Tacoma | |
| 2010 | Pre Runner Extended Cab Pickup 4-Door | 4.0L 3956CC 241Cu. In. V6 GAS DOHC Naturally Aspirated | Toyota | Tacoma | |
| 2010 | Pre Runner Extended Cab Pickup 4-Door | 2.7L 2694CC l4 GAS DOHC Naturally Aspirated | Toyota | Tacoma | |
| 2010 | Pre Runner Crew Cab Pickup 4-Door | 4.0L 3956CC 241Cu. In. V6 GAS DOHC Naturally Aspirated | Toyota | Tacoma | |
| 2010 | Pre Runner Crew Cab Pickup 4-Door | 2.7L 2694CC l4 GAS DOHC Naturally Aspirated | Toyota | Tacoma | |
| 2010 | Base Standard Cab Pickup 2-Door | 4.0L 3956CC 241Cu. In. V6 GAS DOHC Naturally Aspirated | Toyota | Tacoma | |
| 2010 | Base Standard Cab Pickup 2-Door | 2.7L 2694CC l4 GAS DOHC Naturally Aspirated | Toyota | Tacoma | |
| 2010 | Base Extended Cab Pickup 4-Door | 4.0L 3956CC 241Cu. In. V6 GAS DOHC Naturally Aspirated | Toyota | Tacoma | |
| 2010 | Base Extended Cab Pickup 4-Door | 2.7L 2694CC l4 GAS DOHC Naturally Aspirated | Toyota | Tacoma | |
| 2010 | Base Crew Cab Pickup 4-Door | 4.0L 3956CC 241Cu. In. V6 GAS DOHC Naturally Aspirated | Toyota | Tacoma | |
| 2010 | Base Crew Cab Pickup 4-Door | 2.7L 2694CC l4 GAS DOHC Naturally Aspirated | Toyota | Tacoma | |
| 2011 | X-Runner Extended Cab Pickup 4-Door | 4.0L 3956CC 241Cu. In. V6 GAS DOHC Naturally Aspirated | Toyota | Tacoma | |
| 2011 | TRD Sport Crew Cab Pickup 4-Door | 4.0L 3956CC 241Cu. In. V6 GAS DOHC Naturally Aspirated | Toyota | Tacoma | |
| 2011 | Pre Runner Extended Cab Pickup 4-Door | 4.0L 3956CC 241Cu. In. V6 GAS DOHC Naturally Aspirated | Toyota | Tacoma | |
| 2011 | Pre Runner Extended Cab Pickup 4-Door | 2.7L 2694CC l4 GAS DOHC Naturally Aspirated | Toyota | Tacoma | |
| 2011 | Pre Runner Crew Cab Pickup 4-Door | 4.0L 3956CC 241Cu. In. V6 GAS DOHC Naturally Aspirated | Toyota | Tacoma | |
| 2011 | Pre Runner Crew Cab Pickup 4-Door | 2.7L 2694CC l4 GAS DOHC Naturally Aspirated | Toyota | Tacoma | |
| 2011 | Base Standard Cab Pickup 2-Door | 4.0L 3956CC 241Cu. In. V6 GAS DOHC Naturally Aspirated | Toyota | Tacoma | |
| 2011 | Base Standard Cab Pickup 2-Door | 2.7L 2694CC l4 GAS DOHC Naturally Aspirated | Toyota | Tacoma | |
| 2011 | Base Extended Cab Pickup 4-Door | 4.0L 3956CC 241Cu. In. V6 GAS DOHC Naturally Aspirated | Toyota | Tacoma | |
| 2011 | Base Extended Cab Pickup 4-Door | 2.7L 2694CC l4 GAS DOHC Naturally Aspirated | Toyota | Tacoma | |
| 2011 | Base Crew Cab Pickup 4-Door | 4.0L 3956CC 241Cu. In. V6 GAS DOHC Naturally Aspirated | Toyota | Tacoma | |
| 2010 | Pre Runner Standard Cab Pickup 2-Door | 2.7L 2694CC l4 GAS DOHC Naturally Aspirated | Toyota | Tacoma | |
| 2010 | Pre Runner Standard Cab Pickup 2-Door | 4.0L 3956CC 241Cu. In. V6 GAS DOHC Naturally Aspirated | Toyota | Tacoma | |
| 2010 | TRD Sport Crew Cab Pickup 4-Door | 4.0L 3956CC 241Cu. In. V6 GAS DOHC Naturally Aspirated | Toyota | Tacoma | |
| 2010 | X-Runner Extended Cab Pickup 4-Door | 4.0L 3956CC 241Cu. In. V6 GAS DOHC Naturally Aspirated | Toyota | Tacoma | |
| 2008 | Pre Runner Crew Cab Pickup 4-Door | 2.7L 2694CC l4 GAS DOHC Naturally Aspirated | Toyota | Tacoma | |
| 2008 | Base Standard Cab Pickup 2-Door | 4.0L 3956CC 241Cu. In. V6 GAS DOHC Naturally Aspirated | Toyota | Tacoma | |
| 2008 | Base Standard Cab Pickup 2-Door | 2.7L 2694CC l4 GAS DOHC Naturally Aspirated | Toyota | Tacoma | |
| 2008 | Base Extended Cab Pickup 4-Door | 4.0L 3956CC 241Cu. In. V6 GAS DOHC Naturally Aspirated | Toyota | Tacoma | |
| 2008 | Base Extended Cab Pickup 4-Door | 2.7L 2694CC l4 GAS DOHC Naturally Aspirated | Toyota | Tacoma | |
| 2008 | Base Crew Cab Pickup 4-Door | 4.0L 3956CC 241Cu. In. V6 GAS DOHC Naturally Aspirated | Toyota | Tacoma | |
| 2008 | Base Crew Cab Pickup 4-Door | 2.7L 2694CC l4 GAS DOHC Naturally Aspirated | Toyota | Tacoma | |
| 2009 | X-Runner Extended Cab Pickup 4-Door | 4.0L 3956CC 241Cu. In. V6 GAS DOHC Naturally Aspirated | Toyota | Tacoma | |
| 2009 | TRD Sport Prerunner Crew Cab Pickup 4-Door | 4.0L 3956CC 241Cu. In. V6 GAS DOHC Naturally Aspirated | Toyota | Tacoma | |
| 2009 | SR5 Prerunner Crew Cab Pickup 4-Door | 4.0L 3956CC 241Cu. In. V6 GAS DOHC Naturally Aspirated | Toyota | Tacoma | |
| 2005 | Pre Runner Standard Cab Pickup 2-Door | 4.0L 3956CC 241Cu. In. V6 GAS DOHC Naturally Aspirated | Toyota | Tacoma | |
| 2009 | Pre Runner Standard Cab Pickup 2-Door | 4.0L 3956CC 241Cu. In. V6 GAS DOHC Naturally Aspirated | Toyota | Tacoma | |
| 2009 | Pre Runner Extended Cab Pickup 4-Door | 4.0L 3956CC 241Cu. In. V6 GAS DOHC Naturally Aspirated | Toyota | Tacoma | |
| 2009 | Pre Runner Extended Cab Pickup 4-Door | 2.7L 2694CC l4 GAS DOHC Naturally Aspirated | Toyota | Tacoma | |
| 2009 | Pre Runner Crew Cab Pickup 4-Door | 4.0L 3956CC 241Cu. In. V6 GAS DOHC Naturally Aspirated | Toyota | Tacoma | |
| 2009 | Pre Runner Crew Cab Pickup 4-Door | 2.7L 2694CC l4 GAS DOHC Naturally Aspirated | Toyota | Tacoma | |
| 2009 | Base Standard Cab Pickup 2-Door | 4.0L 3956CC 241Cu. In. V6 GAS DOHC Naturally Aspirated | Toyota | Tacoma | |
| 2009 | Base Standard Cab Pickup 2-Door | 2.7L 2694CC l4 GAS DOHC Naturally Aspirated | Toyota | Tacoma | |
| 2009 | Base Extended Cab Pickup 4-Door | 4.0L 3956CC 241Cu. In. V6 GAS DOHC Naturally Aspirated | Toyota | Tacoma | |
| 2009 | Base Extended Cab Pickup 4-Door | 2.7L 2694CC l4 GAS DOHC Naturally Aspirated | Toyota | Tacoma | |
| 2009 | Base Crew Cab Pickup 4-Door | 4.0L 3956CC 241Cu. In. V6 GAS DOHC Naturally Aspirated | Toyota | Tacoma | |
| 2009 | Base Crew Cab Pickup 4-Door | 2.7L 2694CC l4 GAS DOHC Naturally Aspirated | Toyota | Tacoma | |
| 2009 | Pre Runner Standard Cab Pickup 2-Door | 2.7L 2694CC l4 GAS DOHC Naturally Aspirated | Toyota | Tacoma | |
| 2005 | X-Runner Extended Cab Pickup 3-Door | 4.0L 3956CC 241Cu. In. V6 GAS DOHC Naturally Aspirated | Toyota | Tacoma | |
Overview
Protect your driving safety by blocking large objects to achieve good wind and dust isolation.
Made of High-quality ABS Double-layer process material (Surface UV Finish), it has the advantages of high-temperature resistance, good impact resistance, long service life, and durability.
All car grilles have the same quality as the original parts but at a lower price. One-year warranty caused by quality.
Notes
1)Don't remove the grille when the car has just been running in case the parts are still hot. It is best to wait for up to half an hour to ensure that everything has cooled down completely.
2)Wear hand and eye protection to protect your skin from chemicals and your eyes from dust.
3)Wash your hands afterward to ensure no lingering dust or chemicals on your hands enter your eyes, even if you have been wearing gloves.
Illustrate:
Light shooting and different displays may cause the color of the item in the picture a little different from the real thing. Please refer to the actual product. The measurement allowed error is +/- 1-3cm.
*Product Notes:
1. For any product problems, you must provide communication vouchers, pictures, videos, etc. with the buyer.
2. The orders must meet the following requirements in order to accept returns and refunds, otherwise they will not be accepted.
a. Product photos or dynamic videos showing the product in question
b. Screenshots of communication records with end consumers
c. Outer packaging and label pictures (clear and complete label pictures on outer packaging)
d. Screenshot of the distributor's order refund on the e-commerce platform/independent station.
3. If the product is returned to the overseas warehouse due to the wrong address, no refund will be given.
4. No reason to return any non-product problems, such as the following wrong order, wrong purchase by customer, customer dislike, etc.
5. Please contact the online customer service before returning the product for a refund, otherwise the return will not be refunded.
6. Items must be unworn, undamaged and in original packaging.
Note:
Drop shipping to 48 states in the United States. Some remote states in the United States (short code: PR, HI, VI, AE, AP, AK, GU, AS, MP) do not provide a drop shipping service for the time being.
Warm Tip:
• Free Standard Shipping on all items.
• All orders are shipped out via UPS, USPS or LTL. etc.
• Transit time is 3-15 business days varying on customer's location to fulfillment center.