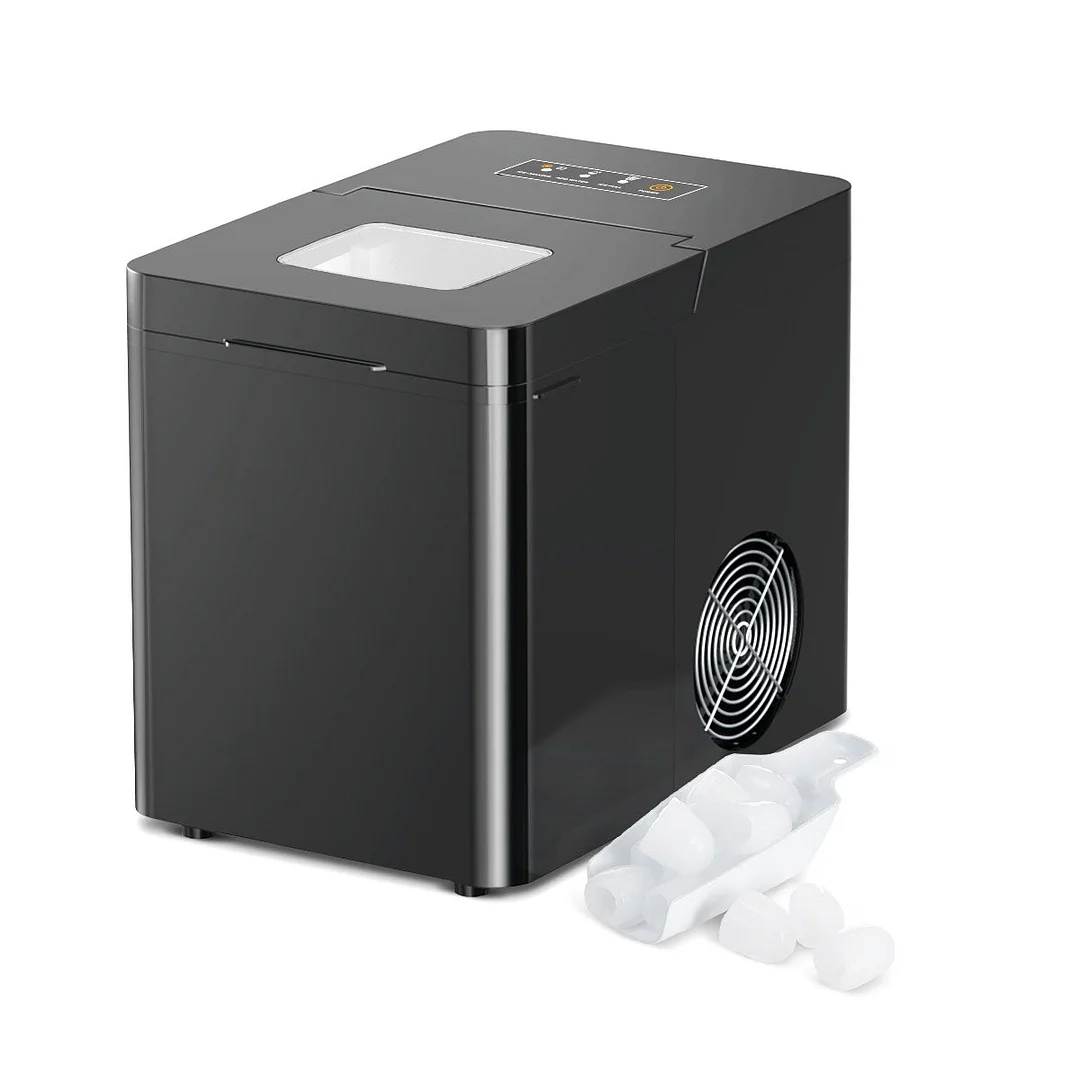 ${data.index + 1}/7
Specifications:
Ice making capacity: 15kg / 24h (21 ° C / 10 ° C) ± 1kg
Ice making shape: Bullet-ice
Number of ice per round: 9
Ice time: 7-8 minutes
Weight of large ice: 8g ± 1g
Weight of small ice: 6g ± 1g
Ice storage capacity: 0.8kg
Water tank volume: 1.8L
Net weight: 8kg
Line length: 180cm/70in
Ice size selection function: Yes
One click cleaning function: Yes
Applicable scenario: indoor use only
Low noise: < 53db
Refrigerant: R600a
Compressor: Arnoldan QD48Y11G (110V)
Input voltage frequency: 110V ~ 60Hz
Power: 110W ± 15%
Product size: 252x375x312mm/9.9x14.8x12.3''
Package Included:
1x Ice Makers
1x Ice Basket
1x Ice Spoon
1x Instructions
Features:
Fast Ice Making: The ice maker only takes 7 minutes to make 9 bullet-shaped ice cubes.Fill 1.8L of water into the water tank, maximum ice capacity can reach 33 pounds in 24 hours.
Two Sizes of Ice Cubes: You can make two different sizes of ice cubes. Small ice cubes can chill seafood and beer keeping it fresh and cold. Large ice cubes are more suitable for beverages to achieve a rapid cooling effect.
Quiet and User Friendly:When making ice cubes, the noise is lower than 40dB, similar to a working refrigerator. The transparent lid allows you to monitor the ice capacity. Our sensor automatically detects when ice is full and stop producing to prevent overflowing.
Easy to Control: Our control panel is very easy to operate. Fill the ice maker with water, press the on button, select the size of the ice cubes and that's it. When the water is insufficient or the ice basket is full, the indicator light will turn on.
High quality & Self-cleaning: Our ice maker is light and efficient, with a size of 9.9x14 8x12.3 inches. Press the on/off button for 5 seconds to start the self-cleaning process. You can also open the entire lid to clean the refrigeration room.
Recommended operating temperature note:
Ambient temperature: 50 ° - 105 ° f / 10-40 ° C
Recommended water temperature: 40 ° 90 ° f / 4 ° c-32 ° C
No insulation function: the ice maker is not suitable for storing ice