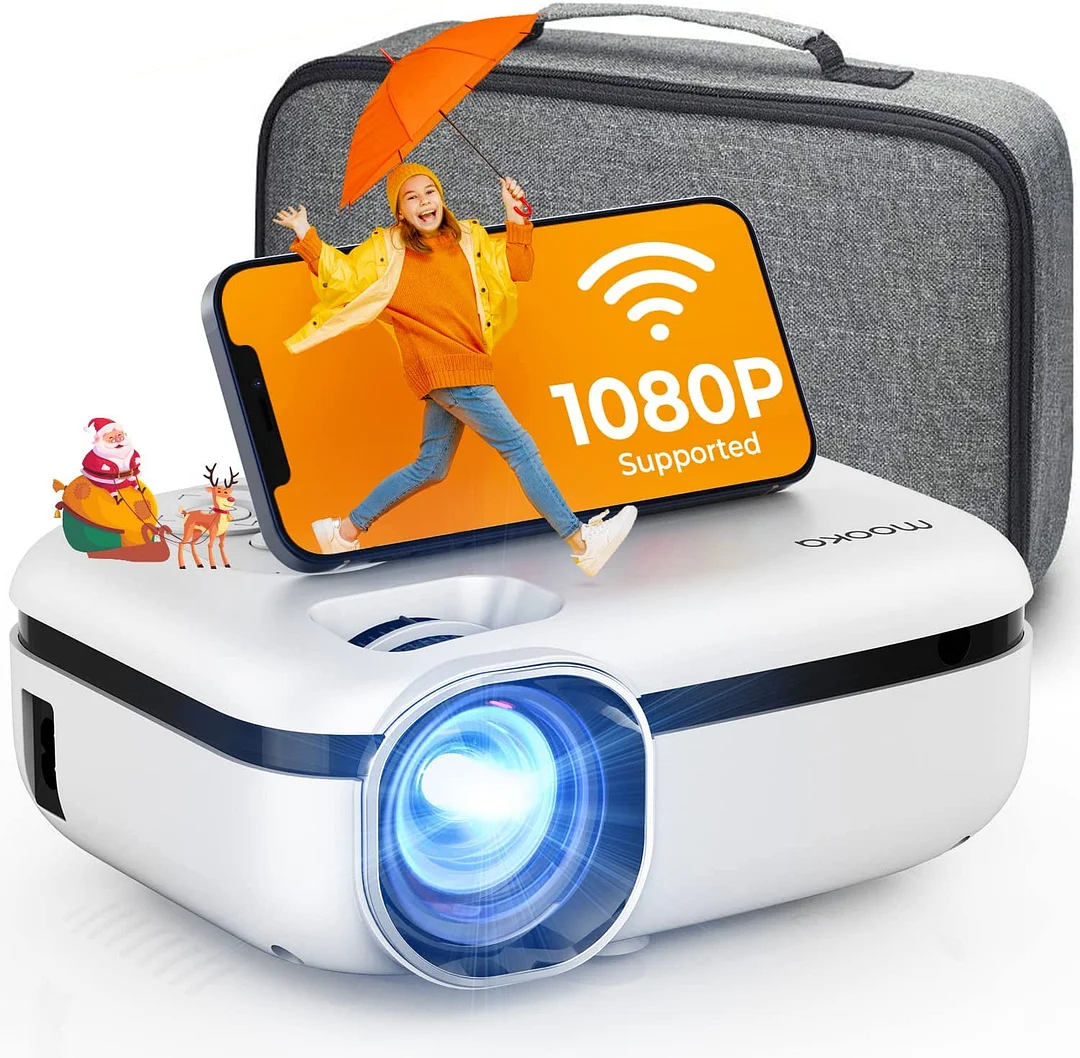 ${data.index + 1}/6
1080P Supported WiFi Projector, 8000 L, 5000:1 Contrast Ratio, 200" Display Image Size, Ideal Choice for Home or Outdoor Entertainment
Mooka family video projector design is based on aesthetic innovation that leads us to an avant-garde design to push the boundaries and set a new vision for your perception.
Mooka FAMILY home projector remarkable tech specs:

8000Lux (Over 150 ANSI)

4.3" LCD screen

1280*720 native resolution

Full HD 1080P supported

5000:1 High Contrast

200'' display
Advanced 50% Zoom Function & Upgraded Wireless Connection:
Most LCD projectors allow adjusting the projection size only by changing the throw distance. Thus an optical zoom feature is a highly demanded function in a projector. Mooka FAMILY portable projector has a motorized zoom facility to control the projector zoom by reducing the image up to 50% of the original length and width with the remote control.
For instance, you can use the remote control to adjust the length and width when you want to reduce the picture size. You don't have to rotate the projector lens zoom ring manually to adjust the zoom according to the actual distance anymore.
Wireless Connection:
Mooka FAMILY portable WiFi Projector is the perfect way to get a movie theater experience at home. The latest integrated WiFi connection technology allows you to synchronize your smartphone screen with the projector.
Android/iOS/iPadOS/Windows 10 compatible.
Finest materials and overall build quality ensure long years of at-home movie nights! We are happy to bring you wired/wired-free opportunities to expand and diversify your experience with and without extra cables and dongles.
Wired Connection:
Watch your favorite movies even with no WiFi connection. Connect the projector to your phone via the original USB cable easily.
Higher Brightness:
Adopting the most advanced German LED lamp technology, Mooka FAMILY portable WiFi Projector has an amazing +30% brightness gain and a native resolution of 1280x720.z
At Mooka we know how the lack of brightness tires your eyes quickly, thus a portable Mooka FAMILY video projector has a high brightness of 7500 lumens. Moreover, it utilizes bright eye protection LED light source, LCD display technology and supports 1080P resolution.
95% NTSC:
NTSC - It refers to the number of colors that a mode image can have.
At present, the color gamut of devices on the market is generally around 45%-72%, and the high color gamut is recognized as 90%, but Mooka FAMILY has reached an astonishing 95%.
With rich colors, the vividness of the picture has been significantly improved, making the excessive color in the picture more natural, effectively avoiding distortion and color blocks. The level is clear, can show more details, closer to the real effect.
With MEMC Technology:
MEMC - a kind of motion picture quality compensation technology used in LCD TVs or projectors and other display devices. Mooka FAMILY helps you done with this!
The effect is to remove the residual image of the previous frame, improve the dynamic clarity, and reduce the image trailing to a level that is difficult for the human eye to perceive.
Multiple Installation:
Available projection screen setups: Rear, Front, Ceiling, and Wall. Mini projector can flip the image, supports front projection and back projection. Experience the versatility of home theater installation by mounting it on a ceiling.
Hi-Fi dual stereo speakers:
The movie projector with built-in Hi-Fi dual stereo speakers, mighty enough to entertain you into the world of high-quality sound reproduction, the Mooka professional home projector ready to fit your sophisticated lifestyle high standards.
Carrying Bag Included:
The portable carrying case is included in the packaging for your Mooka FAMILY portable projector. Take a movie mini projector with you even if you're on a road/business trip or when traveling with your family.
High Compatibility and Wide Application:
With HDMI, VGA, AV, and USB interfaces, our Mooka home theater movie projector compatible with TV Box, Amazon Fire TV Stick, PCs, Laptops, Tablets, speakers, Chrome Book, video game consoles, PlayStation, Xbox, Blu-ray DVD players, USB Flash Drives, Media players, iPad, iPhone, and Android Smartphones. Use it for different purposes: Home Theater/Cinema, Video Gaming, Party, Outdoor Entertainment.
Wireless Screen Mirroring - iOS:
1. Connect the projector to home wi-fi
2. Go to "Settings" then "Screen Mirroring" and find "iOS Screen"
3. Connect your iOS device to the same Wi-Fi;
4. Turn on the "Screen Mirroring" function on your iOS device, select the "MOOKA-XXXX" projector and connect it.
Wireless Screen Mirroring - Android:
1.Select Android Screen function
2.Turn on the WLAN on the Android device
3.Lauch the Multi-screen/ Wireless Display / Screen Morring / Smart View function.
4. Select "MOOKA-XXXX" from the searching result list.
Up to 200" Giant Screen - Ideal size for sharing happiness with your family, lover, and friends.
Warm Tips:
1. MOOKA FAMILY projector is designed as a home theater video projector, for your better viewing experience, please use it in a dark environment.
2. Due to HDCP copyright, RD-823 wireless projection doesn't support Netflix, Amazon Prime, and Hulu, but you could use Amazon fire Sticks, laptops, or PC to play.
3. Due to HDCP copyright is different, Google and Samsung phones do not support WiFi screen mirroring, Google and Samsung phones can only support Chrome-cast WiFi screen mirroring.RD-823 projector is Mira-cast WiFi screen mirroring.
4.Our projector can only support Miracast protocol. If you are using some phone with other protocol(Like Google/MOTO/Sony) will occur no picture only audio works situation. you may need to use a wired connection or use another phone that with Miracast protocol.
5.It is recommended to use MOOKA FAMILY RD-823 as your home theater, it's not commended to use it in a large conference, teaching activity, or commercial usage.
6. MOOKA FAMILY RD-823 does not include a battery for the remote control, please prepare two AAA batteries yourself!
7.If the picture is not clear, it may be because the focus and keystone correction functions have not been adjusted properly.
Specifications:
8000 Lumens;
Support 200 inch large screen;
WIFI Function Screen Mirroring;
High Brightness & 1080P Supported;
Keystone Correction & Focus;
5W Hi-Fi Dual Stereo Speakers;
Interface Type: HDMI*1; AV*1; 3.5mm Audio out*1; power input*1; USB 2.0*2;
Installation: To meet different positions install requirement, MOOKA WiFi movie projector supports you to place on the flat table with tripod or hanging on ceiling.
Mini Projector with Wifi*1;
Remote Control*1 (battery not included);
HDMI Cable*1;
AV Cable*1;
Power Cord*1;
Carrying Bag*1;
Instruction Manual*1
Multi-interface Compatibility: With HDMI, VGA, AV, and USB interfaces, our home theater projector compatible with TV Box, Fire TV Stick, PCs, Laptops, Tablets, iPad, iPhone, and Android Smartphones.
Key Feature:
1. Portable Mini Design with Carrying Bag: MOOKA mini projector is designed for effortless portability, not just for home entertainment. With the portable carrying bag, you can take the cinema experience wherever you go. Watch content instantly from any device with plug-and-play connectivity through USB Type-C, HDMI, USB reader, Micro SD, and Wi-Fi. MOOKA portable outdoor projector is extremely suitable for home movie entertainment, games, backyard, yoga, outdoor camping and party usage.
2. Latest WiFi Screen Sync Technology: This 2022 updated phone movie projectors adapt the latest WiFi synchronize screen technology, mirror movies/videos/photos/games from your IOS or Android devices by WiFi or USB cable directly. No Hassle of Extra Adapters and Dongles. And the wifi projector is compatible with smartphone, TV Box, TV Stick, Chromecast, PC, Laptop, Tablet, External Speaker, Playstation, DVD Player, Card Reader, U Disk, Media Player.
3. 1080p Supported for Captivating Details: With 1920x1080P supported, enhanced 8000L brightness, equipped with MStar advanced color engine and the MEMC Technology, this movie projector delivers sharper details and cinematic colors for a true-to-life crystal clear visual experience. Designed with eye care in mind, our home projector reflective projection light delivers a viewing experience virtually free of blue light, to reduce eyestrain over prolonged viewing periods.
4. Home Cinema Unbounded Design: This home theater projector upgrade noise reduction technology, built-in dual stereo speaker, provide original audio fidelity and fills your room with impressive, overwhelming sound, enhance your immersion in the movie experience. The innovative and efficient cooling system greatly extend the lamp life of the projector to a maximum of 50000 hours. Other functions such as zoom, adjustable focus and keystone correction, and remote control are equipped.