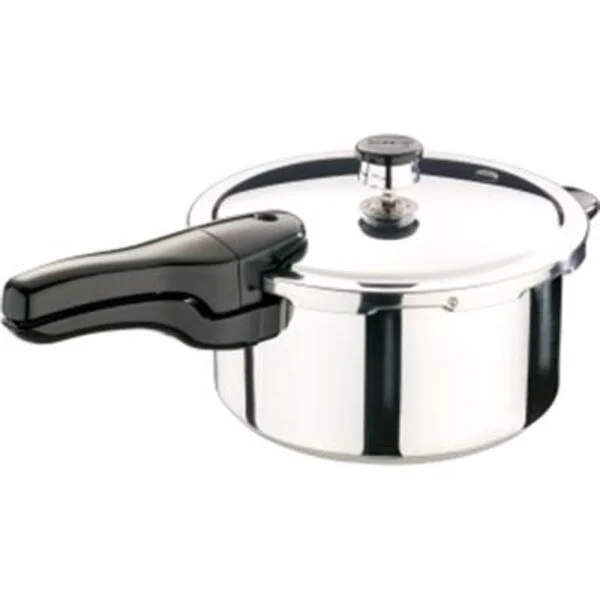 Introducing the Presto Cooker & Steamer, a 4 QT. stainless steel pressure cooker that allows you to cook healthy and flavorful meals quickly and easily. This remarkable appliance cooks three to ten times faster than ordinary cooking methods, and it's even faster than a microwave for many foods. It is the smart choice for preparing today's lower calorie foods, saving time, energy, and money. Pressure cooking preserves flavors and nutrients, and even tenderizes lean cuts of meat.

The pressure regulator maintains the proper cooking pressure automatically, making this cooker ideal for use on regular and smooth-top ranges. Its luxurious stainless steel construction ensures long-lasting beauty and easy cleaning. The cover lock indicator shows at a glance if there is pressure inside the cooker, providing added safety and security.

Whether you're a busy professional or a home cook, the Presto Cooker & Steamer is the perfect kitchen appliance for preparing delicious meals quickly and easily. So why wait? Get your hands on this incredible pressure cooker today and start cooking the healthy, flavorful meals you've always wanted!
4 QT. Stainless Steel Pressure cooks healthy, flavorful meals, fast and easy. Three to ten times faster than ordinary cooking methods. Even faster than a microwave for many foods. Ideal for use on regular or smooth-top ranges. Pressure cooking preserves flavors and nutrients. Lean cuts General Information Manufacturer: National Presto Industries, Inc Manufacturer Part Number: 01341 Brand Name: Presto Product Model: 01341 Product Name: Cooker & Steamer Marketing Information: Cooks healthy, flavorful meals, fast and easy.The smart choice for preparing today's lower calorie foods. Cooks three to ten times faster than ordinary cooking methods! Saves times, energy, and money. Pressure cooking preserves flavors and nutrients, and even tenderizes lean cuts of meat. Pressure regulator maintains the proper cooking pressure automatically. Ideal for use on regular and smooth-top ranges. Luxurious stainless steel for long lasting beauty and easy cleaning. Cover lock indicator shows at a glance if there is pressure inside the cooker. Product Type: Multipurpose Cooker Product Information Maximum Capacity: 1 gal Steaming Functionality: Yes Physical Characteristics Product Color: Stainless Steel Miscellaneous Package Contents: Cooker & SteamerCooking RackInstruction/Recipe Book Warranty Limited Warranty: 12 Year